A shopping in Lucknow which had firm cultural links from medieval time of the nawabs. Inspite of its shayri and mujras, the noble city of Lucknow is famous for cotton textiles and chikankari work from the ancient times. Perfumes of Lucknow are well known in India. The major shopping market are Hazratganj, Yahiyaganj, Aminabad, Kapoorthala, Janpath, Chowk, Bhootnath & Gomti Nagar.
Lucknow is an old style shopper's paradise. The city is fit for those who hate Hyper-Malls and still believe that the art of shopping is a divine gifted quality that can only be mastered upon in the congested alleys of old bazaars and not in some air-conditioned malls located in a plush locality. Lucknow has a number of sites to go shopping. Blended in history, these shopping places also are used as the popular means of passing time and lazy strolling. This does not come as a surprise for a city that is not only famous for its lethargy but also have a sense of pride over it.
The most favored and flocked shopping destinations of the city are located in old Lucknow area. Among them, Hazrat Gunj (named after Begum Hazrat Mahal) is most frequented. Hazratganj market has a big shopping area where the buildings are of colonial style building. Hazrat Gung is actually a fashionable bazaar that overflows with shops and restaurants. Strolling leisurely in Hazrat Gunj and stopping for a bit of window-shopping or meeting friends at your favorite corner is a popular pastime here.
Aminabad is considered not only the busiest market in the city but is also counted among the top bazaars in India in terms of trade volume. You will find each and everything under its roof. Nevertheless Aminabad is famous for jewelry and pickle shops. Chowk in old Lucknow is also considered a major market. The area is best to pick up Chikankari cloths and antique pieces. While doing the rounds of the shops, a visit to Nakhas, the Sunday market, is obligatory. A colorful, noisy pavement bazaar, it is a veritable storehouse of antiques and curios. The must buys in Nakhas are antique Paandan, Khaasdan and all kinds of other such charming objects d'art. Nakhas also has a famous bird market.
Shopping malls in Lucknow are the Zee Mall (Fun Republic), West End Mall (Wave) in Gomti Nagar, Riverside Mall Gomti Nagar, Phenix in Alambagh and Sahara Ganj near Shahnazaf Road, Hazratganj that is visited by more than thousands visitors daily.
Sahara Ganj is one of the biggest and most crowded malls of Lucknow. This is India's third largest shopping mall with a total covered area of above 4,25,000 sq ft.
The first thing that comes to mind while talking about shopping in Lucknow is of course the famous Chikan work of Lucknow. Lucknow chikan is perhaps one of the finest works of embroidery that one can find here in India. It is known for its exquisite style and fine needlework and is unparalleled when it comes to refinement. The Mughal queen Noor Jehan revived this style in 655 AD in India. Lucknow Chikan Kari gained an entirely new look as it was much preferred and supported by the Mughal rulers. This lead to further refinement and improvement of the Lucknow Chikan embroidery work. Today, Lucknowi chikankari is synonymous with fashion and is worn by almost every celebrity at least once.
Lucknow is also famous for its shops of jewellery and ornaments. Right from the nose pin to the waistband, you name it and they will have it. These exquisite works of jewellery are exclusive and are found only in Lucknow. The jewellery pieces have unique work of metal ornamentation that looks splendid. Another famous type of jewellery found there is the Jadau, which means jewellery in which gems are studded. Lucknow is famous for its big danglers and Jhumkas that are found in the wardrobe of each and every girl.
Shopping Malls
Wave Mall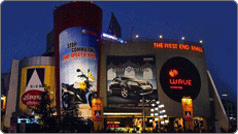 Located in Gomti Nagar, this mall houses many leading brands including Mc Donalds, Westside, Globus, Landmark, Kohli Brothers, Archies, W Women Store, etc. in addition to 4 Screen Multiplex run by Wave Cinemas. It is first Multiplex to be opened in Lucknow and still remains the best in terms of service and Seating Style. The multiplex also offers Gold Class seating which sets Wave Cinemas to set itself apart from other Multiplex in the town.
Saharaganj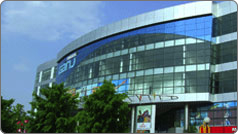 Lucknow went through a transformation in its lifestyle with Sahara Infrastructure & Housing generating ample avenues. Be it residential or commercial, our projects are making a statement that is bound to turn eyes. In the same lines the recent project Sahara Ganj, opened in November 2005 to provide the city with the best entertainment arena. A brand Super Mall, it is self sufficient in its offerings & specifications of the highest order.
Fun Republic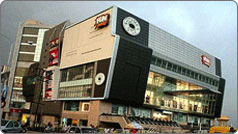 The city of Nawabs was overjoyed when Fun Republic started its operations one of the tallest commercial buildings in North India's most hospitable city, Fun Republic in Lucknow is a 3,70,000 sq ft (of leasable area) edifice, opened on February 2, 2007. Overlooking the affluent township of Gomti Nagar, the property has already become the hottest spot amongst Indian retailers. Situated just a kilometer away from the River Gomti that runs through the city of Lucknow, this area is fast emerging as the state capital's Central Business District.
Riverside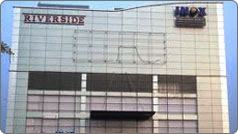 Riverside Mall is situtated next to Hotel Taj Residency in Gomti Nagar. The mall opened a year back and has brands like Big Bazaar, Barista Lavaza, Barbeque Nation, Zero Degrees Pub in addition to Inox Multiplex. Although more brands are yet to open their stores in this mall, the mall has good parking space.
Pheonix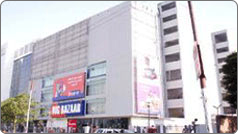 The city's first Six Screen Multiplex with about 1600 seats has been inaugurated on 27th May 2010 at Alambagh, behind Hotel Piccadily, Lucknow. Pheonix has brands like Big Bazaar and Pantaloons as its anchor stores. The eight floor mall will have the Food Court on the top floor that will house local brands, along with multi nationals like Mc Donald's.