Photo Competition Rules
Please note:
Entries Accepted : August 03 – August 15, 2013
ENTRY to the competition is FREE. An eligible entrant must be an individual and agree to abide by these terms and conditions. Entries only from India are allowed and prize to be collected from Lucknow.
PHOTO SUBMISSIONS
Each entrant can submit one photograph in each section along with caption and location. The photograph must be mail at [email protected] Any photograph submitted must be the entrant's own work. The photo must be either a digital photograph or a high-quality scan.
MAILING FORMAT
Name :
Date Of Birth :
Profession :
Address :
Mobile Number :
Photograph(s) as attachment
THEMES of the competition :
1 – Architectural Wonders of Lucknow – The unique angles of the heritage monuments.
2 – Emerging Lucknow – The new architecture in Lucknow which emerged post-independence.
3 – Cultural Life of Lucknow – Nazakat, Nafasat & Tehzeeb to be captured in frame.
AGE GROUPS
Adults (18 years old and up)
The Young Crew (17 years old and under) – Entrants must have the permission of a parent or guardian
Very important:
Do not include your name in the picture (i.e. in the frame or in the picture itself) or in the caption or title for the image. These images will not be eligible for the voting!
Digitally manipulated photographs will be automatically disqualified.
CONSENT & COPYRIGHT
The entrant must be the sole author and owner of the copyright. By entering your photograph into the competition, you grant to LUCKNOW Society the non-commercial non-exclusive right to use your images for promotion of the lucknow.me online photo competition and for promotion of the LUCKNOW in any media. Should LUCKNOW Society want to use awarded images for commercial publications, this will only be done with prior written consent by the photographer and for a reproduction fee. The photographer will be credited whenever possible. Entrants must not infringe on the privacy rights, copyright or other rights of any person.
DIGITAL CRITERIA
Uploaded Photos must be a minimum 1024 px longest side at 72 dpi
Uploaded Photos must be saved in RGB/sRGB colour gamut/mode
Uploaded Photos must be saved as JPEG, no less than compression 7 (medium)
Files for upload must be no larger than 2 MB
DIGITAL RESTRICTIONS
Digital adjustments are only acceptable if limited to minor cleaning work (de-dusting), levels, curves, colour, saturation and contrast work.
Please be fair ! LUCKNOW Society can ask for the original files in case of doubt concerning manipulation.
JUDGING Photographs are selected by a panel of LUCKNOW Society nominated judges. If your photograph reaches the final stage of judging, you will be asked to supply the original photograph in high resolution or slide format for best possible reproduction.
WINNERS AND RUNNERS-UP will be notified by email and displayed on the competition page. Prizes will not be transferable & to be utilised by 30th September 2013
OUR RIGHTS LUCKNOW Society reserves the right to exclude entrants and withhold prizes for violating any of these terms and conditions. Should the quality of entries fall below the standard required we reserve the right not to award prizes. LUCKNOW Society reserves the right to amend these terms and conditions.
INDEMNITY LUCKNOW Society is not responsible for failure of receipt, loss or damage of any photographs entered in the competition. Entrants indemnify LUCKNOW Society and their sponsors of any responsibility in respect to damage and loss to entrant's belongings; death or injury as a result of the competition.
The judge's decision is final and prizes can't be exchanged.
Prizes
3 winners in each sections. Total 9 prizes as 'Land Packages' (excluding air tickets & visa arrangements ) :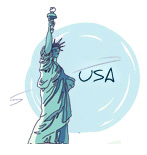 1st Prize X3 – Trip to USA
1st Prize in each category – 5 Nights 6 Days for 2 pax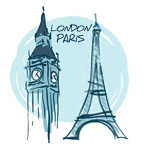 2nd Prize X3 – Trip to LONDON & PARIS
2nd Prize in each category – 6 Nights 7 Days for 2 pax
3rd Prize X3 – Trip to PARIS
3rd Prize in each category – 4 Nights 5 Days for 2 pax