Awadh Rulers
Wajid Ali Shah (1847-1856)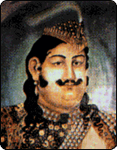 Amjad Ali Shah's eldest son, Wajid Ali shah, who was eventually destined to be the last ruler of Awadh, ascended the throne of Awadh in 1847.
Wajid Ali Shah was a great patron of singers, musicians, dancers and artists. He was also greatly interested in architecture. He started building the Qaiser bagh palace complex as soon as he came to the throne. This vast complex was built between 1848 and 1850 at the cots of 80 lakh rupeesincluding furniture and decoration. The inner court yard of Qaiserbagh, with its lawns was called Jilo Khana. In the centre was a Baradari flanked by two mermaid gates ( Lakkhigate ) at eastern and western ends.
On the right end was Chandiwali Baradari, which was paved with sliver and the khas muqam and Badshah manzil, which used to be the special residence of the king. On the left was a large group of buildings termed as chaulakkhi kothi, built by Azimutla Khan, which was later sold to the king. Nawab khas mahal and other honoured ladies of the royal harem lived here. During the mutiny days Begum Hazrat Mahal held court from this kothi. The buildings at the Qaiserbagh Quadrangle were occupied chiefly by ladies of the Harem. To left of the Western Lakkhi gate, was the Roshan-ud-daula kothi, built by Nasir-ud-din-Haider's Wazir, later confiscated by Wajid Ali Shah and renamed as 'Qaiser Pasand'. One of his favourite wives Nawab Mashuq Mahal used to live in it. Of the large oblong enclosure of elegant and imposing two storied houses, one wing of which was pulled down after the war of 1857, the other still remains. It was in this atmosphere of gaiety and merriment, that the British annexed Awadh on Feb.11, 1856 deposing Wajid Ali Shah.
Comments