Awadh Rulers
Asaf-ud-Daula (1775-1797)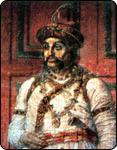 The accession of Asaf-ud-daula, the fourth nawab wazir of Awadh, brought a great change in Awadh politics. Under the rule of Asaf-ud- daula the court of Lucknow became utterly magnificent and the town of Lucknow acquired great splendour. The capital was finally shifted from Faizabad to Lucknow in 1755 which contributed to its significant growth.
The most important outcome of Asaf-ud-daula consolidation of the court at Lucknow, was the emergence of a powerful shia culture, in constant interaction with the shia heart lands of Iran & Iraq. The increasing number of shia emigrants from Iranian cities varitably transformed Lucknow into a great intellectual centre.
Asaf-ud-daula was also a great builder: He built the 'Daulat Khana' as a residence for himself to the west of Macchi Bhawan, the Rumi Darvaza and the incomparable Bara Imam Bara. The Imam-Bara & the Rumi-Gate were constructed as a famine relief measure in 1784. Consciously designed by its architect Kifayatullah, the 164 feet long and 52 feet wide building is constructed in brick with high quality limestone. The arched roof of the Imam-Bara, which is built without a single beam, is the largest of its kind in the world. The strength of the edifices can be judged from the fact that although built over 212 years they still stand intact, maintaining their original dignity and grandeur.
The Bhulbhulaiya at Bara Imambara, is a unique labyrinth of intricate balconies and passages, with 489 identical doorways, which give the feeling of being lost.
He also built the Bibiyapur Kothi. It was built by Asaf-ud-daula as a country residence where he frequently resorted for hunting, of which he was passionately fond. The beautiful Chunhat Khoti was also built by Asaf-ud-daula. General Claude Martin entered the court of Awadh under Asafud-daula, and created the plan of his 'Constantia', The Nawab was so overwhelmed by his design that he decided to purchase it with ten lakh gold coins. But before the transaction could be completed the Nawab departed for his heavenly abode in 1797, and was laid to rest in his magnificent lmambara..
Comments