Awadh Rulers
Nasir-ud-din-Haider (1827-1837)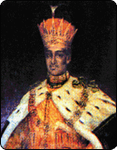 In 1827 Ghazi-ud-din Haider's son, Nasir-ud-din Haider; ascended the throne. King Nasir-ud-Din Haider had a colourful court and he led a lavish even extravagant life.
He had a strong belief in Astrology & Astronomy. This led him to set up an observatory at Lucknow 'The Tarunwali Kothi' which was bedecked with exceptionally good astronomical instruments. He added Darshan Vilas, an european style Kothi, to the Farhat Buksh complex in 1832. By the time of Nasir-ud-din Haider the Awadh govt. had started deteriorating. The administration of the kingdom was left to the hands of Wazir Hakim Mahdi and later to Raushan-ud-Daula. The King was busy in his debaucheries and inventing religious rites. He lived mostly in women quarters and even started dressing like woman.
He reproduced a Karbala at lradatnagar for his place of burial. However his tyrannical rule was brought to an end in 1837, when he was poisoned by his own friends & favourites. Nasir-ud-din Haider died without an offspring and Ghazi-ud- din Haider's queen 'Padshah Begum' put forward Munna Jan, as a claimant to the throne though both Ghazi-ud- din Haider and Nasir-ud-din Haider had refused to acknowledge him as belonging to the royal family. The begum forcibly enthroned Munna Jan at Lalbaradari. The British intervened and exploited the situation to their interest. They arrested both the begum and Munna Jan and arranged for the accession of late Nawab Saadat Ali Khan's son, Nasir-ud-daula, under title of 'Muhammad Ali Shah', who promised to pay a large sum of money to the British for this.
Comments