Awadh Rulers
Shuja-ud-Daula (1754-1775)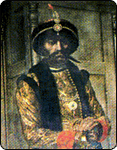 SafdarJung was succeeded by his son Jalal-ud-din Haider -Shuja-ud-daula, who stayed mostly at Faizabad. He supported Mir kasim in the Battle of Baksar in 1764 but was defeated, which compelled him to enter into a treaty with the East India Company, in addition to payment of 50 lakh of rupees. This was the advent of British on the soils of Awadh. The 1st British resident Mr Middleton entered the court of Nawab Wazier in 1773. Safdar Jung was a restless, impulsive and ambitious ruler who not only brought violent disturbances but also momentous vicissitudes for his regime. From the time of Shuja-ud-daula onwards, the Nawabs surrendered their independence little by little, over the coming years. To pay for the protection of British forces and assistance in war, Awadh gave up first the fort of Chunar, then districts of Benaras, Ghazipur and finally AIlahabad.
As Shuja-ud-daula functioned from Faizabad, he paid a lot of attention towards beautification and development of the town of Faizabad. Shuja-ud-daula's wife Bahu Begum, was a woman of great distinction and rank, who contributed significantly towards the growth and consolidation of her husband's government. During the days of Shuja-ud-daula, Faizabad attained a prosperity, which it never saw again.
Shuja-ud-daula died in 1774 and was laid to rest at his mausoleum at Gulab-Bari, Faizahad.
Comments