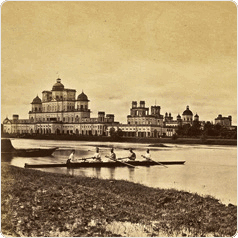 Shaam-e-Awadh
Subah and Shaam are words that represent the two periods of a day -'morning' and 'evening' respectively. Interestingly, one finds these two terms of a day repeatedly associated with two cities of north India in two very contradictory and conflicting forms of depictions of women, that have appeared in Urdu poetry.
One depiction relates to Banaras (Varanasi) as Subah-e-Banaras, where a widow in a white sari is vividly described in all her charming form of beauty, appearing at the steps of a ghat of the river Ganga where she is engaged in the worship of the 'rising sun', and clad in a wet sari that is exposing most of her body, she tries desperately to shield her modesty by letting down her hair and evades the lustful gaze of men (which ironically, includes the poet who is narrating this scene).
The other depiction has Lucknow, the capital of Awadh and hence referred to as Shaam-e-Awadh. Here the scene is usually depicted in a tardy fashion by presenting a glamorous tawaif (courtesan) displaying her exotic charms, beauty and graceful stature and appearing in one of the balconies of a building in the street, purporting to be throwing an open invitation in the form of a salaam or a gesture to the customer standing below, in Chowk (in a street lying between the Masjid of Tehsin and the Gol Darwaza). The adjacent lane there is still known as Phool wali gali, for the flower-sellers, who flourished there with the tawaifs by selling flower ornaments and garlands made with neelofar, yaasmin. chameli, champa, beta, gulab (rose) and other sweet smelling flowers.
Coincidently many of these female dancers of this market were referred to as nautch girls by the English who often called them to their residence for entertaining themselves, their ladies or guests. Actually, those flowery names were adopted by the tawaifs to hide their real identities.
However, the Lakhnavi tawaif oi the superior variety was not just an instrument of providing wholesome entertainment with music and dance performances. She was also considered to be an institution, and her Kotha was meant to be a centre of training in excellence, where the young Nawabs and budding sons of rich clients learnt their manners, etiquette and civility which was necessarily required for them in future for upward mobility in the echelons of aristocracy. Though, it is just a creation of fiction by Mirza Hadi Ruswa, the character of poetess and courtesan Umrao Jan Ada provides an example of this variety of tawaif in Lucknow.
Shaam-e-Awadh was famous and much has been written about it and its atmosphere of lilting sounds of music and ghungroo, mujra dances and melodious singing of ghazals and thumri as forms of light and classical music that was associated with it, but there are so many other things which have been omitted by these poets and story-tellers of yore.
In fact the area of Chowk was also a commercial area which was brightly illuminated with oil lamp-posts in the evening and chandeliers were lighted in shops that were profusely decorated with items of attraction of various designs and forms. Since it was a place which was bound to have the presence of the patrons of the tawaifs who were mostly aristocrats, nobles, nawabs, jagirdars, taluqadars, wasiqadars, mahajans (money lenders) and highly placed officers of the Nawabi administration and were supposedly connoisseurs of arts and crafts; the market had gold and silversmiths, dealers of precious stones and engravers called nageen taraash, ivory craftsmen, cloth merchants who dealt in chikan, zardozi, kaarchob, kamkhaab and silk items of clothing, that the rich could afford.
It was a narrow street and often there was commotion when more than one Taluqadar or noble came with their retinue, riding an elephant or seated in horse carriages, escorted by guards on horses and followed by foot-men in a regal procession. Spectators thronged the streets to witness the spectacle. In view of the traffic jam caused by these flamboyant demonstrations, it became necessary to place restrictions on the size of carriages and retinue that would be allowed to enter Chowk market.
The area near the Kotha or Baalakhana (balconies) of tawaifs also had in the ground floors, kiosks and shops of Nanbai, Halwai and professional cooks called Rikabdars who provided a large variety of eatables and gastronomic delights and sweets. The Balaiwala and Nimish vendors, Qulfi and Sherbet shops did brisk business when people ventured out of their workplaces and homes for a stroll in the evening, after having faced the sultry heat of the summer afternoon.
Josh, a well-known poet from Malihabad town near Lucknow, in his autobiography Yaadon ki Baraat appears extremely pained and nostalgic about Shaam-e-Awadh. He laments its absence while recalling his visits to his friends and the Baalakhana area of Chowk in Lucknow which he was missing after migrating to Karachi (Pakistan) :
"Kal bhi jiske tazkire the, anjuman dar anjuman Daastaan dar daastan, Shaam-e-Awadh hai aaj bhi"
[Being nostalgic is now becoming a part of my daily routine since it was yesterday that I recalled all these associations and engagements of my past and today it is again that I am missing Shaam-e-Awadh -my evenings in Lucknow, indeed the best period of my life.]
Saiyed Anwer Abbas
'Incredible Lucknow - A Visitors Guide'
Comments