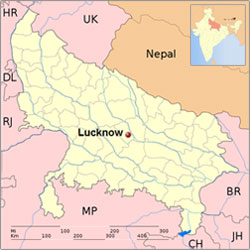 The location of Lucknow is in the state of Uttar Pradesh in India. Situated on the northern Gangetic plains of India, Lucknow is the capital city of Uttar Pradesh. The geographical location of Lucknow is between 26.50° North and 80.50° East. Lucknow is located at an elevation of 123 meters above sea level. This city was known by the name of Awadh during ancient times.
Situated in the heart of the great Gangetic plain, Lucknow city is surrounded by its rural towns and villages like the orchard town of Malihabad, historic Kakori, Mohanlal ganj, Gosainganj, Chinhat, Itaunja. On its eastern side lies Barabanki District, on the western side is Unnao District, on the southern side Raebareli District, and on the northern side the Sitapur and Hardoi districts. The Gomti River, the chief geographical feature, meanders through the city, dividing it into the Trans-Gomti and Cis-Gomti regions. Lucknow city is located in the seismic zone III.
Lucknow's location is responsible for the diverse weather patterns and climatic changes. It does not have a uniform weather throughout the year and experiences extreme summers and extreme winters. The total area covered by Lucknow is around 3204 square kilometers. The location of Lucknow is what makes it easily reachable by air, rail and road.
Climate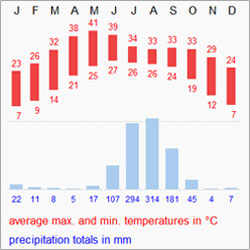 Lucknow has a warm humid subtropical climate with cool, dry winters from December to February and dry, hot summers from April to June. The rainy season is from mid-June to mid-September, when Lucknow gets an average rainfall of 1010 mm (40 in) mostly from the south-west monsoon winds. In winter the maximum temperature is around 25° Celsius and the minimum is in the 6° to 8° Celsius range. Fog is quite common from late December to late January. Summers are very hot with temperatures rising to the 40° to 45° Celsius range.