Monuments of Lucknow
About Book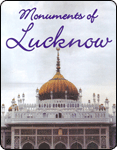 Lucknow is abode of fine arts and 'Ganga-Jamuna' culture. After the downfall of Delhi this cosmopolitan city had given shelter to a captivating panorama of arts and culture. Lucknow there after developed and refined every aspect of this culture through the delicacy, mannerism and literary prominence of art and culture of Avadh, to give it world-recognition.
In the Monuments of Lucknow the glorious golden era of Avadh has been expressed by commencing a tour through the famous buildings built in those times. The buildings of Lucknow reflect a class of their own. Even the splendid, huge and wonderful buildings have been constructed with small brick plates popularly known as 'Lakhauri', pair of fishes, beautiful symmetrical arches, Baradaris and Naubatkhanas. The book covers architecture of these buildings along with the history of Avadh, its social environment and cultural heritage. The interesting presentation in 'Lucknow Monuments' will help the reader visualise and feel the lovable soothing atmosphere of that glorious time.



About The Author
Dr. Yogesh Praveen is an expert and authority on the history and culture of Avadh, specially Lucknow. He has done Masters in Hindi and Sanskrit and Doctorate in Literature from Meerut-' University.
His famous books include Dastane Avadh, Taj dare Avadh, Bahare Avadh, Gulistane Avadh, Doobta Avadh, Dastane Lucknow, Aapka Lucknow, Lucknow monuments and many more.
Apart from books he has many poetic creations to his credit. He received the Prestigious National Award for his book "Lucknow Nama ".
He has received several other awards like U.P. Ratna Award (2000), National Teachers Award (1999), Yash Bharti Award (2006), U.P. Sangeet Natak Academy Award (1998) and many others.


ISBN : 978-81-829014-14
Price:

1500/-
Publisher : Shubhi Publications