Lucknow The Historic City
About Book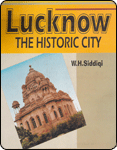 Mythology dates Lucknow back to the satyug period of Ramayana when Laxman the younger brother of Ram formed a settlement of Lakshamanavati or Laxshmanpur. Archaeological excavations indicate presence of prehistoric and historic (AD 40-900) settlements. The historic city of Lucknow was once the seat of Indo-Muslim civilisation- the legacy of the Nawabs of Awadh. Lucknow is also important for its role in the 1857 War of Independence, an event that largely transformed the morphology of the city and was the cause of destruction of much of its historic fabric.
This book traces the urban history of the city with reference to its art, architecture and sophisticated composite culture, which is unique and is remembered with nostalgia. Based on historical facts, the book covers the important monuments of Lucknow with brief descriptions of their salient features.



About The Author
Dr. W.H. Siddiqi, is currently Officer on Special Duty at Rampur Raza Library, Rampur, Lucknow. A former Director of Archaeological Survey of India, he was the Theme Organiser of 'Historical Archaeology', World Archaeological Congress - 3, New Delhi, Dec 4th - 11th, 1994. He has worked in the fields of historical archaeology, art, architecture and epigraphy and has a special interest in Lucknow.



ISBN :
Price:

495/-
Publisher :